Support us on the London Legal Walk 2018
---
A team from Citizens Advice Westminster made up of staff, volunteers, and their friends and family will be participating in the London Legal Walk on 21st May. All funds raised will go directly to supporting the life-changing services that we provide free to the citizens of Westminster. 
Why not join our team on this prestigious annual fundraising event… please email your details to sitalgohil@westminstercab.org.uk
If you can't make the walk, but would like to help us reach our target, you can sponsor us via our fundraising page.  You can also ask your family and friends to sponsor our team; the offline sponsorship form is here.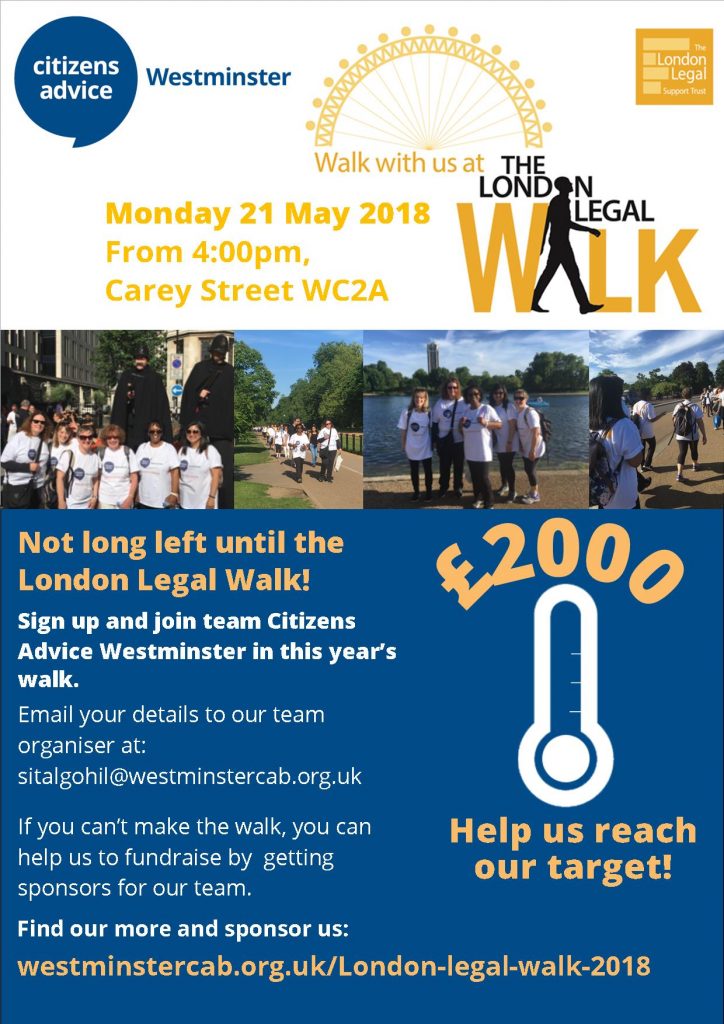 Citizens Advice Westminster is a registered charity which provides free, independent, impartial and confidential advice to residents of the City of Westminster. The information and guidance given covers a wide variety of subjects, including welfare benefits, debt, housing, employment, consumer matters, immigration & nationality, relationships & family, and taxes.
We are only able to continue serving this vital role within the community through the aid of our volunteers, staff and free lawyers and by relying on donations, trusts and grants. Last year Citizens Advice Westminster helped 12,549 individual clients, and we achieved £3.67m in financial outcomes. Our website received millions of hits from those wanting to access self-help information and fact sheets.
Last year the funds raised by our walkers went towards supporting our Foodbank Advice Project. Serving the North Westminster area, 256 clients have been seen over the last year and £132,329 in financial gains secured. While advice and help concerning money issues predominate, immigration and housing matters have also been resolved at the Wednesday morning sessions held at the Community Centre, Athens Gardens, London, W9 3RS.
By signing up to walk and raise as much money as possible you can help us to continue helping those struggling needlessly in our community.
So please sponsor our walkers as generously as you are able.
---